LE BLANC DE BLANCS
ORGANIC WINE 2021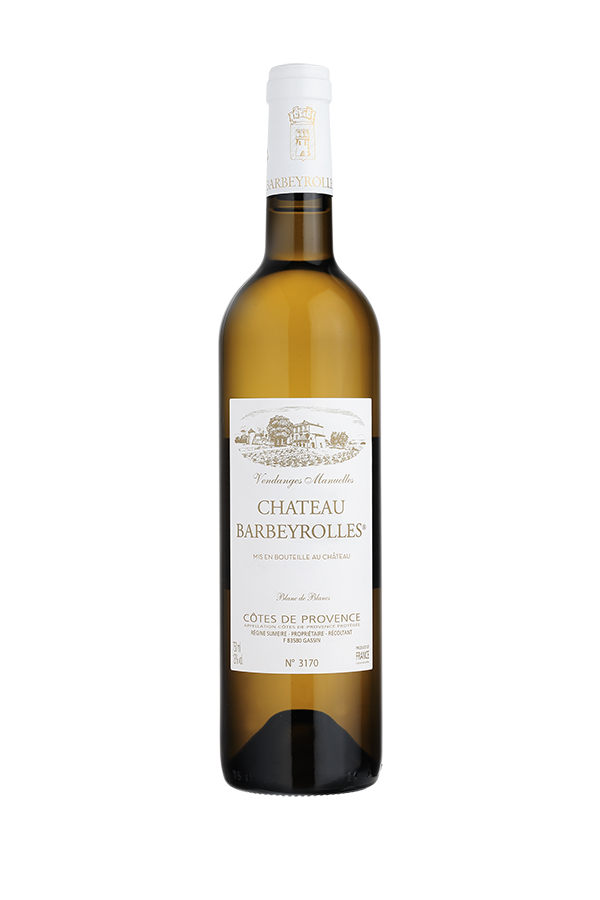 TERROIR
AOC Côtes de Provence.
The coastal land of Château Barbeyrolles is located in the Maures hills area, on the peninsula of Saint-Tropez. All twelve hectares have shaley soils dating back to the Paleozoïc era.
GRAPES
55% Semillon, 45% Rolle.
Average age of the vines : 35 years old.
VINTAGE
After a dry and relatively mild winter, the budburst was early and started on March 20th on the Grenache in Hyères. We were impacted by the frost on April 8th. The rains of April and May allowed the vegetation to start again. The consequences of the frost were lower than expected : in May we had the positive surprise to see bunches of grapes recovering well ! The flowering started on May 17th, the summer was dry without any excessive heat, the ripening started on July 16th. The harvest started on August 23 and ended on September 24.
GROWING
The vineyards are worked by hand, using natural animal fertilizers and treating the soil with sulphur and copper only from 3 generations. We do not use any chemical weed killers. Buds are trimmed and a green harvest is practice to purposefully limit yields. A part of the vineyard is plowed with horses. The area between the rows of vines is grassed over with cereals.
WINEMAKING
All grapes are harvested by hand, sorted, not de-stemmed and directly loaded into the press without crushing. The grapes are lightly pressed so as to obtain optimum delicacy and fragrance from the very heart of the grapes. Wines ferment with indigenous yeasts in temperature-controlled stainless steel, gravity-fed cuves and it undergoes malolactic fermentation. Bottled at Château Barbeyrolles.
Lemon yeallow with blossomy nose delivering acacia flowers and honey, its fruit is intense bursting with peaches, pears and golden apples, on stony background entwined with garrigue and zests. A silky palate with dense and balanced mouthfeel cut through by its digest acidity, it offers a juicy core with spicy character. Citrus zests mingle with vine peach, crunchy apple, the long finish lingers with blossomy and herbal hints. Can age for 5- 6 years.
— Julia & Bruno Scavo
AWARDS
SILVER MEDAL
COMPLEX AROMA OF PRESERVED LIME, STRAW AND JELLY-BABY. THE PALATE HAS EXCELLENT TEXTURE, WITH NOTES OF ANGELICA, LIME, SCRUB HERBS, VANILLA CREAM AND TOAST ON THE FINISH.
VERY GOOD INDEED.
Decanter World Wine Awards 2022