LE PÉTALE DE ROSE
ORGANIC ROSÉ WINE 2021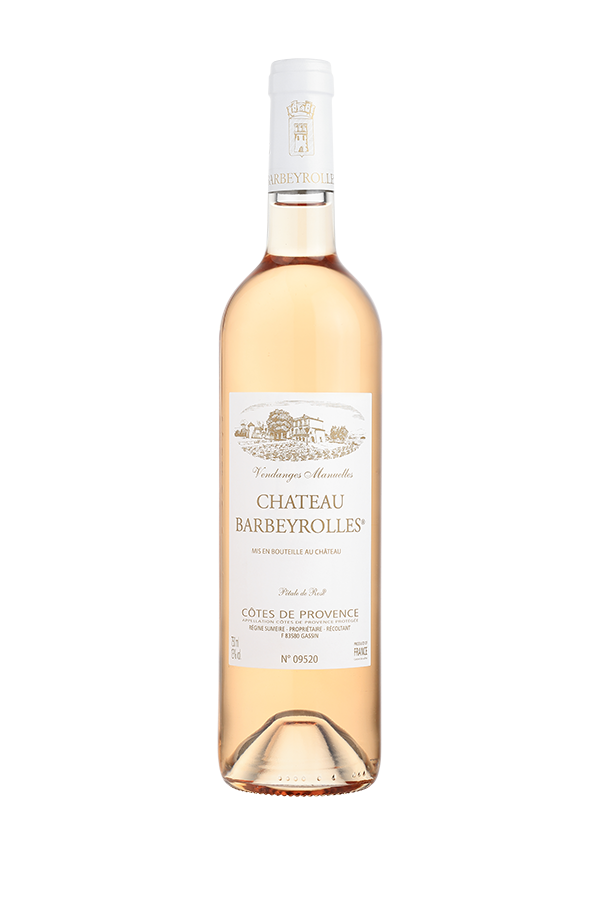 TERROIR
GRAPES
34% Grenache, 29% Cinsault, 27% Mourvèdre, 3,8% Cabernet Sauvignon, 2,2% Ugni-Blanc, 2% Rolle, 2% Sémillon.
Average age of the vines : 35 years old.
VINTAGE
After a dry and relatively mild winter, the budburst was early and started on March 20th on the Grenache in Hyères. We were impacted by the frost on April 8th. The rains of April and May allowed the vegetation to start again. The consequences of the frost were lower than expected : in May we had the positive surprise to see bunches of grapes recovering well ! The flowering started on May 17th, the summer was dry without any excessive heat, the ripening started on July 16th. The harvest started on August 23 and ended on September 24.
GROWING
The vineyards are worked by hand, using natural animal fertilizers and treating the soil with sulphur and copper only from 3 generations. We do not use any chemical weed killers. Buds are trimmed and a green harvest is practice to purposefully limit yields. A part of the vineyard is plowed with horses. The area between the rows of vines is grassed over with cereals.
VINIFICATION
All grapes are harvested by hand, sorted, not de-stemmed and directly loaded into the press without crushing. The grapes are lightly pressed so as to obtain optimum delicacy and fragrance from the very heart of the grapes. Wines ferment in temperature- controlled stainless steel, gravity-fed cuves. The Pétale de Rose is exclusively made of 1st quality juices. The wine undergoes malolactic fermentation.
With delicate rose petal colour, the nose is pure with a flinty character. It bursts with strawberry and liquorice as it breathes, also evoking garrigue and laurel notes. A dry, fresh and fleshy palate with a spicy twist, structured by moderate acidity and balanced phenolics with zesty character. Its complex aromas intelace red fruit, some citrus like pomelo peel and pink pepper. The finish is spaid, chalky with long aftertaste. Drink over 2-3 years.
— Julia & Bruno Scavo
AWARDS
GOLD MEDAL
PAS MOINS DE HUIT CÉPAGES COMPOSENT CE SUPERBE ROSÉ.
EN BIO, UN GRAND VIN DE LA PRESQU'ÎLE DE SAINT-TROPEZ
M. Le Magazine du Monde
VERY PALE SALMON. COOL AND MINERAL AND NICELY DRY.
VERY APPESTING AND SOPHISTICATED.
REALLY MORCISH AND CONVINCING.
Jancis Robinson
IT IS IN BARBEYROLLES, ON THE PININSULA OF ST-TROPEZ THAT THE
FIRST PALE COLOR ROSÉ WAS BORN. NAMED PÉTALE DE ROSE BY
RÉGINE SUMEIRE, THIS ROSÉ WINE, WITH SUCH A REFRESHING
MINERALITY KEEPS MOVING OUR HEARTS.
Bettane + Desseauve
A VERY GOOD QUALITY ROSÉ WINE, TWO ESTATES
WITH HIGH QUALITY STANDARDS. THE 2017
VINTAGE FEATURES SCENTS OF CRUSHED STONE AND
SAVORY SPICE RATHER THAN OVER FRUIT. LIGHT TO
MEDIUM-BODIED, IT'S SILKY TEXTURED AND LONG ON THE FINISH.
Robert Parker - Wine Advocate
BRONZE MEDAL
A WINE WITH A LOVELY STRUCTURE AND FRESHNESS, THE PALATE FEATURING RED BERRY FRUITS, GRILLED MELON AND TOAST. GOOD STRUCTURE AND LENGHT.
Decanter World Wine Awards 2022